Would you like to be able to identify horse coat colors? Next time you see a horse in person, in a picture or in a video, you will be able to determine the majority of those horse's coat colors.
Horses come in a rainbow of coat colors. There are base coat colors and all other coat colors originate from these base colors. The base coat colors of a horse are bay, chestnut, and black. White is not considered a base color which is a lack of pigmentation in a horse's skin and coat.
Take note: This blog post won't make you an expert on equine color genetics. I only know so much about horse coat colors and there are even more variations than what is listed here. But this post will give you a general idea of many different horse colors, what they are called with a little bit of info about each of them. Plus pictures to help you identify the colors in the real world.
Base Horse Coat Colors
Bay
Bay is technically a modification of black with the black color moved to the points of the horse (mane and tail, legs, tips of ears and muzzle.) Although it is still considered a base color. Along with the black points including mane & tail, the body is a brown or reddish-brown color.
Chestnut
Chestnut is a reddish-brown color with the same reddish-brown mane and tail. Sometimes the mane, tail, and legs can be lighter in color.
Black
A black horse is all black with no brown highlights on the face or body. Although black horses can bleach out in the sun. The bleached areas turn a reddish-brown, which can confuse some people to think the black horse is a seal brown. To differenciate between a black and brown horse, a black horse will have black hairs around their eyes and muzzle.
White VS. Gray Horse Coat Colors
Not all white looking horses are actually considered white. Some horses look white but are actually grey.
White Coat Color
A white horse is lacking pigmentation in the skin and coat. White horses have light pinkish skin and can have dark or light-colored eyes. White horses look albino but are only actually considered albino if they have pinkish eyes.
They are born with a white coat and pink skin.
Grey Coat Color
Grey horses can have a pure white coat, making them look like white horses but they have dark skin noticeable around the muzzle and eyes and don't usually have light-colored eyes. They start off a dark color and grow lighter as they age.
Dapple grey is a stage many horses go through but it doesn't last. Grey horses have different variations of coat colors depending on the base coat, which you will find more about later in the post.
Dapple Grey:
Vivid Variations Of Base Horse Coat Colors
Bay and chestnut come in many vivid variations. These are just some examples.
Blood Bay & Cherry Bay
Blood bay is a dark red shade that almost has a purple hue to the color. The cherry bay is a little bit lighter more of a medium red shade.
Liver Chestnut
Liver chestnut is a liver or chocolate colored coat. The legs, mane and tail are the same color.
Jet Black
Jet black coat color is horses that have a black coat and the black color does not fade out in the sun. They may have a bluish hue to their coat.
Horse Coat Variations With Bay As Base Coat
Dark Bay
The black color is not moved out as much as other bay horses.
Seal Brown
Seal brown is when the horse is dark brown or blackish and has lighter brown highlights.
Wild Bay
This is a more primitive type of bay color. The legs have very little black on them.
Pangare Bay
Pangare comes in bay and chestnut. There are light colored highlights such as around the muzzle eyes and under the belly.
Buckskin
It is a cream dilution that turns a bay into a buckskin.
Perlino
Perlino is also known as pearl. It's a cream dilution which turns a buckskin horse into a perlino. There is a pinkish tint to the skin and coat color.
Amber Champagne
The champagne gene turns a bay horse into an amber champagne colored horse.
Bay Silver
The silver gene strips the pigment in the black mane and tail. A bay horse turns into a bay silver.
Bay Dun
Dun horses are a primitive color. The bay dun is a tan color with, a dorsal stripe down the back, dark legs, mane and tail. There are also small horizontal stripes on the legs called leg bars.
Bay Roan
A bay horse with the roan gene. White hairs are dispersed throughout the body. The head and lower legs tend to stay dark.
Rose Grey
Rose grey has a pinkish tint to the coat. A rose grey horse is born a bay or chestnut. Eventually, the horse's coat becomes a whiter color with age.
Horse Coat Variations With Chestnut As Base Coat
Sorrel
Lighter chestnut with lighter manes. This is a loose term. Different people have different opinions on what sorrel means. Western riding folk tends to use the term Sorrel more often than chestnut. Some people say Sorrels have a redder coat.
Chestnut Pangare
The belly and sometimes legs are a lighter color as well as muzzle and flanks. The mane and tail may also be a lighter color.
Palomino
Palominos have a golden coat and can come in lighter or darker shades. The mane and tail are white.
Cremello
The cream gene turns a palomino color into a cremello color.
Gold Champagne
The champagne gene turns a chestnut color into a gold champagne color.
Flaxen Chestnut
The silver gene doesn't affect chestnuts because it only affects black pigment, but chestnuts can have a flaxen mane and tails. A flaxen chestnut is only describing the chestnuts mane and tail.
Red Dun
Red dun is a diluted color of chestnut. A dorsal stripe runs along the back. There tend not to be dark points on a red dun horse, instead reddish points.
Red Roan
Red roan is a chestnut horse with white hairs mixed throughout the coat. Sometimes lighter colored red roans are called strawberry roans.
Flea-bitten Grey
Flea-bitten grey horses are originally born as chestnut horses. They usually get the flea-bitten coat when they are a bit older.
Horse Coat Variations With Black As Base Coat
Faded Black
Some people confuse faded black horses to be brown horses. Most black horses coats fade in the summer sun, but there are some horses that keep there black color, known as the jet black color.
Bleached Out Black
Some horses bleach out in the summer and look almost like they are bay horses. A sun-bleached horse is still a black horse even though they may look bay or brown.
Smokey Black
A cream dilution makes a black horse into a smokey black horse.
Smokey Creme
Another creme dilution makes a black horse into a smokey cream horse which doesn't look black at all.
Classic Champagne
Champagne gene turns a black horse into a Classic Champagne colored horse. The coat has a metallic shine to it.
Silver Dapple
Silver gene dilutes the black base color. The body becomes a chocolate color while the mane and tail are a bright white or silver looking color. These horses are also known as chocolate, taffy or flax.
Grulla
Grulla is also known as Grullo or blue dun which is a diluted version of the base color black. The coat is a solid sliver or mouse looking color. Dun horses have a dorsal stripe along the back, sometimes a shoulder bar and stripe markings on the legs called leg bars. These markings may be black or dark grey.
Blue Roan
Blue roan is a black horse with white hairs mixed in throughout the body. The face and points of the horse generally stay dark. Sometimes people confuse blue roan horses with grey and grulla horses.
Steel Grey
A steel grey horse also known as an iron-grey horse starts off as a black foal. As the coat lightens from the black color with white hairs dispersed it turns into the steel grey color. Usually, this colored horse is young and eventually, the horse becomes a white or flea-bitten grey color. Dapple grey may develop at some point in between.
Pinto Colors
First I want to clarify pinto is a color while a paint horse is a breed. Pintos have patches of white on top of the coat color. There are different names for pinto coloring and shapes of the white pattern.
Skewbald
Skewbald is patches of white over any color except for black. Or this includes tricolored, which is patches of white over any two other colors. In this circumstance, black may be included.
Piebald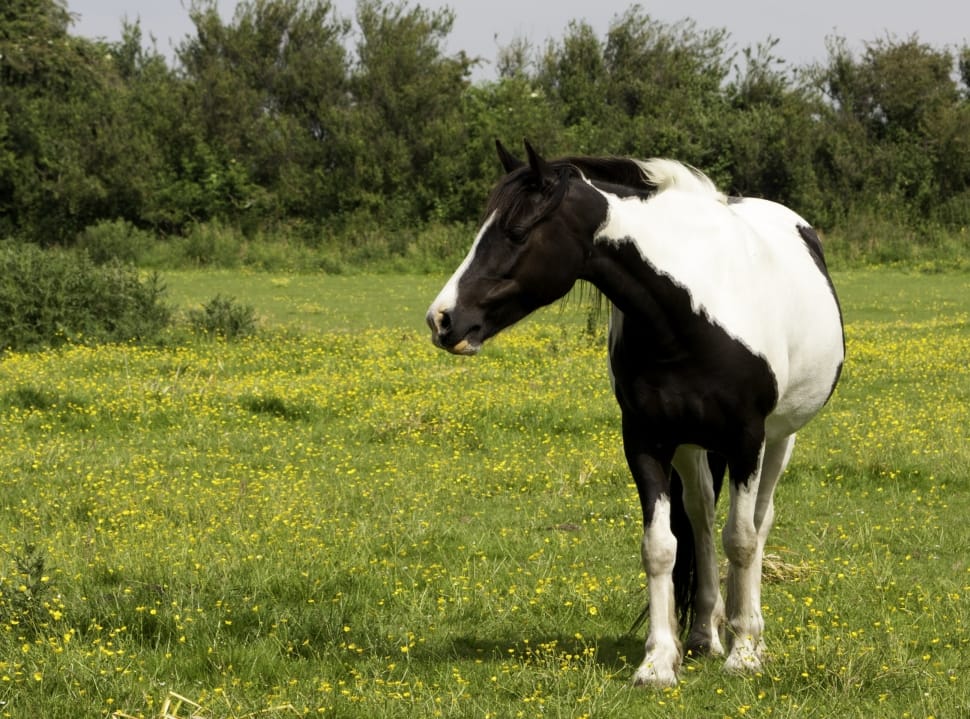 Piebald is white patches over a black coat. So a black and white horse.
Overo
Overo horses usually have bald faces. The white markings are usually jagged moving horizontally along the horses body. These white markings don't commonly show up across the horse's back or legs. The horse's body usually has more color than white patches and is sometimes seen with blue eyes. There are variations of overo including "frame overo", "splashed white" and "sabino overo."
Frame Overo:
Splashed White:
Sabino
There are only slight patches on belly, high leg markings, and wide blazes or other markings on the face. Sometimes there is a roaning pattern around the edge of these patches and some lone roaning patches. This is why robicano is often confused with Sabino. Sabinos can sometimes be classified with Overo, known as "sabino overo," when they also have the classic jagged overo patches and sometimes the bald face.
Robicano
Robicano is also known as "white ticking." This is when the horse is not fully roan, but has only roan patches which is not an actual pinto pattern. This can be confused with Sabino which has white patches that may have roaning around the edges, or white patches and roaning patches on a horse.
Tobiano
Tobiano pinto horse usually has normal face markings, the white patches are more rounded off and vertically placed, legs tend to be white. Tobiano tend to have more white than color on the body. Bay and white Tobianos tend to be called tricolored.
Tovero
The tovero pattern is a mixture of the overo pattern and the tobiano pattern.
Leopard Complex Gene
This is a group of coat patterns that generally have a spotted coat. However, there are horses with leopard complex genes that are solid in color. Other characteristics with horses that have this gene are mottled skin (speckled skin with light and dark color) around the lips, eyes, and genitals, vertically striped hooves, and a white sclera of the eye. Breeds that have the leopard complex include Appaloosas, Knabstrupper, and the Noriker.
Blanket
Blanket pattern has white over the hips that can extend all the way to the neck and tail. Spots in the white area are the same color as the horses coat. Sometimes the blanket area has no spots.
Varnish Roan
This looks similar to the roan but has no relation. There are white hairs mixed throughout the body, neck legs and head.
Frost
Frost pattern is similar to the varnish pattern but the white hairs only mix in on the body and not the legs or head. The picture below does have some white mixing in on the head, so more likely a varnish pattern. But this was the closest copyright free image I could find that closely resembles a frost pattern.
Snowflake
These are white spots on a dark body. More spots tend to appear as the horse ages.
Leopard
Leopard pattern has dark spots all over the body in different sizes. These horses tend to look like dalmatians.
Few Spot Leopard
The spots on these horses are much smaller and not to be confused with a flea-bitten grey. They are nearly white with almost no spots at birth.
Horse Coat Color FAQS
Cheers,
Kacey Cleary
Blog Post Suggestions
link to 27 Palomino Horse Facts & Name Idea List
Palomino horses are one of the few golden colored horse coats out there. I used to lease a palomino horse named Spike. I remember the golden sheen glistening under the rays of the sun when I would go...
link to The Difference Between Horses And Ponies
A popular belief among many non-horse people and beginner equestrians is that ponies are baby horses, which is not true today. However the word was derived from a French term poulenet meaning foal,...