Do you love decorating for fall but want to try something different?
Normally when you are trying to think of autumn decor ideas, warm colors like reds, oranges, yellows, and browns. But lately I have been noticing the trend of cooler colors like blues, greens, whites, grays and blacks, and I love it. Plus the rustic look is fabulous and compliments those colors well.
A little about me…I love to decorate, even though I am an amateur. Few things delight me more than window shopping and coming up with ideas for how I want to decorate a room or my house as a whole and finally seeing the finished product.
I usually only decorate for the fall and Christmas season. The rest of the year our house is decorated with the everyday decor we have.
Seeing that we are in the fall season right now, I got inspired to 'get my Fall on' and create this post.
All my autumn decor is the traditional kind you would expect when you hear the words fall decorations. But next year I would love to do the autumn blue theme, because it's so darn cute. I don't think I can resist.
Create Your Cute Autumn Decorated Home
You will get a list of fall decor that are cool colors and compliments of rustic theme. I have discovered these browsing around the internet. So you can create your cool colored rustic inspired autumn home.
Just so you know some product links are affiliate while others are not. I want you to have the cutest fall decor.
Here are the decorations you need to complete your cool rustic themed fall season.
Lets start with the outside and work our way around the house.
Delightful Garden
When I think of flags I think of a flag hanging off the front of the house. Apparently I'm the last person to find out about flags for the garden. Check out these super cute autumn flags. Look at them on Amazon.
You gotta have a garden flag post for your cute flag to hang off of. I found 3 different kinds. The first is a fancy post that includes an address plaque Look at it on Amazon.
The second is a cute decorative garden flag arbor Look at it on Amazon.
The third is a standard garden flag post Look at it on Amazon.
This blue Amish wagon would look delightful with a bunch of colorful flowers. Check it out on Amazon.
This rustic barrel water fountain looks so cute and charming. The sound of running water is not a bad touch either! Take a look at it on Amazon
Welcoming Entrance
Autumn Around The House
Cute Living Room
Cozy Dining Room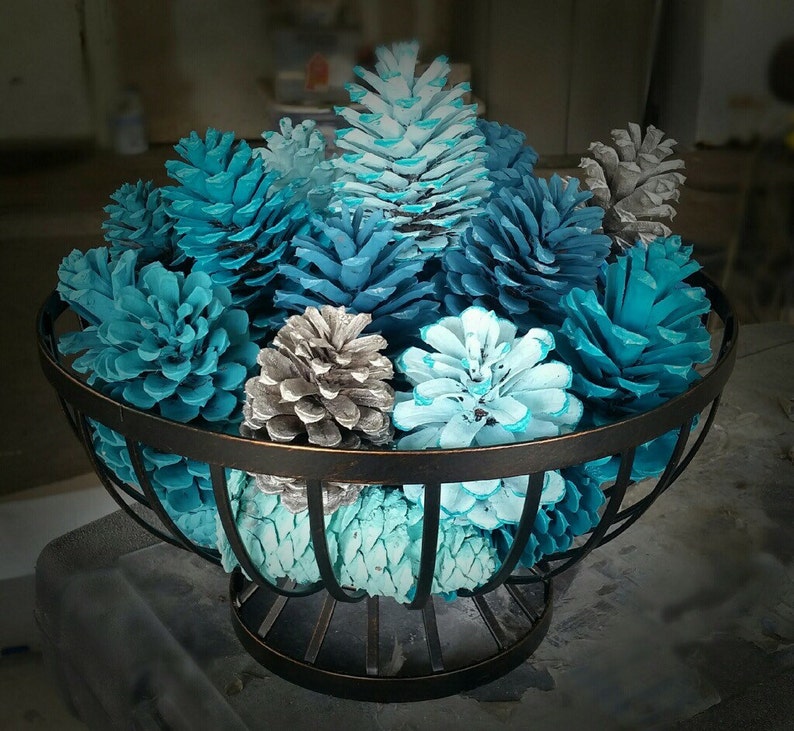 Festive Kitchen
Autumn Bathroom
Cozy Fall Bedroom
What About You?
So I plan to update this post as I find new products for my dream blue autumn themed home decor, that I hope to decorate with next fall season.
Email me pictures of your blue autumn home decor and I will feature your pictures in this post. To help inspire others for their own homes. I will credit your photo with your name and website if you have one.
Answer These Two Questions
I am curious and I would like to get to know you better!
What are two of your favorite things about the fall season?
Do you do yearly fall cleaning, spring cleaning, both or do you not do big cleanings all at once?
Happy Decorating!